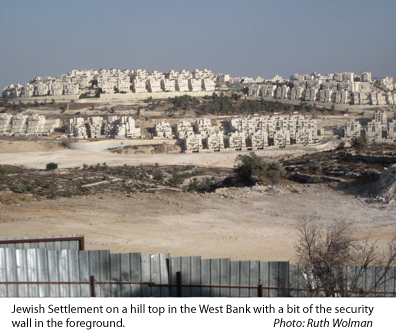 Israeli settlements in the Occupied Palestinian Territory (OPT, the West Bank and the area annexed to Jerusalem after the Six Day War) have consequences for American national interests and security. Whether driven by Israelis who claim they are the descendants of a late Iron Age people who heard voices they thought was God telling them that the land is theirs, or created by Israelis who argue the settlements are necessary for their country's security, or resided in by Israelis who seek an inexpensive suburban life, the consequence are the same. Settlements:
violate international law
prevent the creation of a viable Palestinian state
undermine America's interests in the region
damage America's security
create resentment and anger that threatens the lives of Americans who are bravely serving in the area.
In order to draw attention to the settlements because of their detrimental impact on America and its citizens, this site was created to:
Explain why the international legal community believes the settlements are in violation of international law (for these essays, contact owners);
Outline why the settlements undermine the peace process and prevent the creation of a viable Palestinian state (for these essays, contact owners);
Present the reasons why the settlements damage America's regional interest (for these essays, contact owners);
Inform people about the funding of the settlement enterprise through tax-exempt donations and organizations with tax-exempt status (pale blue box, below, has links to data tables and a few relevant articles);
Keep people informed about current issues and events relating to the settlements by posting daily links to articles from various news sources;
Maintain a bibliography of books focused on settlements (contact owners for list), and
Provide links to reports about the settlements from NGOs and international organizations (contact owners).